Each year, our goal for DockerCon is to deliver the best and most unique Docker event experience possible for the Docker community. Each year, we face new challenges on how to improve on the previous DockerCon. We spend many hours brainstorming creative ways to top the beautiful keynote sets and roaming inflatable whales, and how we can cram even more amazing content into just a few days. The end goal is always the same – create the conference that the awesome community deserves. It's a challenge that we are always up for.
As we quickly approach DockerCon 2016 in Seattle, we wanted to share with you new and exciting programs coming your way at this year's conference!
Sunday Workshops
Since DockerCon EU 2015, we have received requests for deep dive trainings on specific Docker products and services taught by product experts. With this feedback in mind, we are very excited to bring Sunday Workshops to kickoff DockerCon festivities this year! These workshops are designed to give you focused, three hour, hands-on instruction on the Docker platform and get you prepared for the conference. Workshop topics range from Docker 101 to more in-depth trainings on Docker Networking and Security. All workshops are hands-on with small class sizes meaning awesome interactions with Docker and container experts.
Space for the workshops is limited so you will need to pre-register. Learn more about the workshops being offered and how to secure your spot!
Training: Learning CaaS Operations with Docker Datacenter
DockerCon is a perfect opportunity to add a full day of hands-on training from Docker engineers and experts. This year, we will offer full day training exclusive to DockerCon attendees immediately following the conference on Wednesday. Introduction to Docker for Developers training will be offered again but we are excited to also add a new course on Docker Datacenter for Operations.
The Docker Datacenter for Operations training is an operations-focused course, where students will learn how to deploy, manage and troubleshoot Dockerized applications with Docker Datacenter. Students will also come away with a fundamental understanding of Docker from an IT operations standpoint. In this training, there will be a special emphasis on Docker Compose, Docker Swarm and how they are integrated into an CaaS operations workflow using Docker Datacenter.
Hands-on Labs
The Docker team is hard at work building new and improved Hands-on Labs to debut at DockerCon this summer. This series of Hands-On Labs will provide conference attendees with the opportunity to gain experience with various Docker features and use cases. Each Lab runs between 15-30 minutes, covers both introductory and more advanced topics and is self-paced so attendees can learn at their own speed when they have time during the day.
Attendees simply need to come in (with their laptop!) and complete the exercises that interest them. Docker staff will be on hand to help answer any questions – just raise your hand!
The Labs will take place in the heart of the Ecosystem Expo and will be a spot you will not want to miss during your week at DockerCon. Hands-on Lab exercises are still being developed, but keep an eye out for a full blog post with more details soon.
Black Belt Tech Track
In the past, we received great attendee feedback requesting more advanced technical content at DockerCon. Since then, we have kickstarted the curated Black Belt track that was wildly successful in its debut at DockerCon Europe last November.
Black Belt talks are presented by Docker experts from Docker and the Docker community. Attendees of this track will learn from advanced technical deep dives they haven't seen before. These sessions are code and demo heavy and light on the slides. From Docker internals to advanced container orchestration, security and networking, this track should delight most of the container ninjas in the room.
Check out a couple great Black Belt talks from last year!
On-site Child Care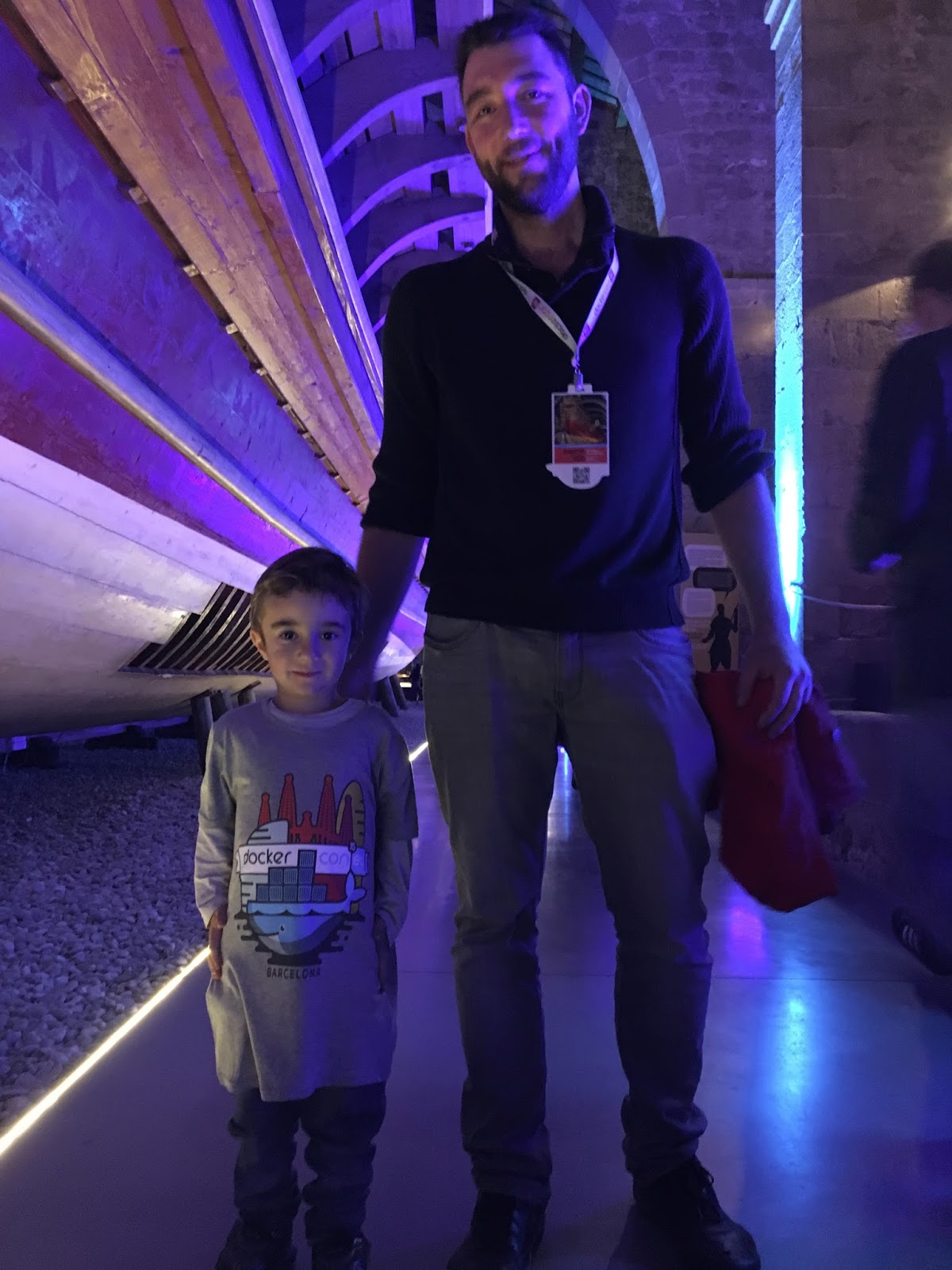 As part of our efforts to make DockerCon doors open to all, we are very proud to announce that we will be offering childcare during Monday and Tuesday of the conference! Gone are the days of "Mom / Dad has to stay home with the kids…" – you can now bring the whole family to DockerCon!
We have chosen Big Time Kid Care as our childcare provider. All caregivers and staff are certified, fully insured and experienced in child education and care with police background checks. Big Time Kid Care will be well equipped and excited to take good care of your little ones at a kid-friendly play room close to the DockerCon activities at Washington State Convention Center. Games, activities, breakfast and lunch will be provided. Find out more on the DockerCon site.
DockerCon Scholarship Program
DockerCon is a place where we come together and celebrate as a community the amazing achievements of innovation and collaboration we accomplish together. For that reason it's important that we open the DockerCon doors to as many as possible and to do our part in strengthening our growing community. Docker is excited to announce the launch of our inaugural DockerCon Scholarship Program.
This scholarship program aims to provide assistance to members of the Docker community who are traditionally underrepresented through mentorship and a financial scholarship to attend DockerCon. The goal of our scholarship program is to help members of the Docker community gain access to resources, tools and mentorship needed to facilitate career and educational development through attending DockerCon. The application process is in conjunction with Docker Birthday #3. As part of the application, applicants will need to complete the Docker Birthday #3 App Project along with the application.
Community Theater
After a successful pilot in DockerCon Europe last year we happy to bring the Community Theater to DockerCon Seattle this year. Located in the center of the Ecosystem Expo Hall, the Community Theater highlights the makers and doers in the Docker community.
The theater will be home to lightning talks given by community members and sponsors on a range of topics during exhibit hours. The sessions are intended to be interactive and collaborative. Think more whiteboarding and less powerpoint presentations.
This is the space to connect with the community and learn more about the Docker ecosystem. The Community Theater also gives us the opportunity to accept a few more proposals from the CFP submissions!
Ecosystem Expo
We've got some great news: no sponsors will be exhibiting in hot congested hallways this year!
DockerCon has grown up and with that comes 100,000 square feet of expo hall. With over 80 sponsors, the Ecosystem Expo will be the hub of activities at DockerCon. We have created plenty of time for you to check-out the awesome sponsors and see partners showcase solutions side-by-side. The Ecosystem Expo will also be home to Hands on Labs and Community Theater making it a destination you will not want to miss.
---
Join us at DockerCon 2016
We strongly recommend that you register soon to secure your pass. Each previous edition of DockerCon has sold out in advance.
For those who have submitted speaking proposals: if your talk proposal gets accepted for DockerCon, we're more than happy to provide a refund on your purchased ticket.
---
Learn More about Docker