From webinars to workshops, meetups to conference talks, check out our list of events that are coming up in October!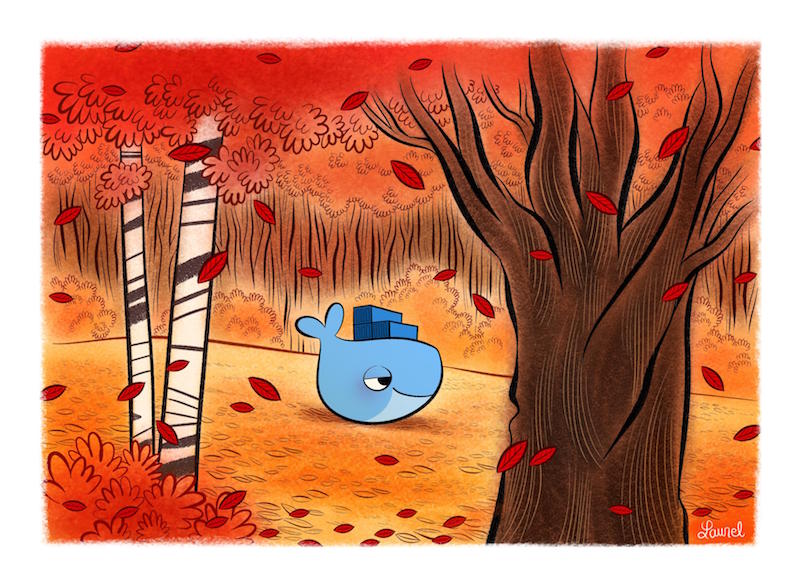 Online
Oct 13: Docker for Windows Server 2016 by Michael Friis
Oct 18: Docker Datacenter Demo by Moni Sallama and Chris Hines.
Official Docker Training Course
View the full schedule of instructor led training courses here!
Introduction to Docker: This is a two-day, on-site or classroom-based training course which introduces you to the Docker platform and takes you through installing, integrating, and running it in your working environment.
Oct 11-12: Introduction to Docker with Xebia – Paris, France
Oct 19-20: Introduction to Docker with Contino – London, United Kingdom
Oct 24-25: Introduction to Docker with AKRA – Krakow, Germany
Docker Administration and Operations: The Docker Administration and Operations course consists of both the Introduction to Docker course, followed by the Advanced Docker Topics course, held over four consecutive days.
Oct 3-6: Docker Administration and Operations with Azca – Madrid, Spain
Oct 11-15: Docker Administration and Operations with TREEPTIK – Paris, France
Oct 18-21: Docker Administration and Operations with Vizuri – Raleigh, NC
Oct 18-22: Docker Administration and Operations with TREEPTIK – Aix en Provence, France
Oct 24-27: Docker Administration and Operations with AKRA – Krakow, Germany
Oct 31- Nov 3: Docker Administration and Operations by Luis Herrera, Docker Captain – Lisboa, Portugal
Advanced Docker Operations: This two day course is designed to help new and experienced systems administrators learn to use Docker to control the Docker daemon, security, Docker Machine, Swarm, and Compose.
Oct 10-11 Advanced Docker Operations with Ben Wootton, Docker Captain – London, UK
Oct 26-27: Advanced Docker Operations with AKRA – Krakow, Poland
North America
 & 
Latin America
Oct 5th: DOCKER MEETUP AT MELTMEDIA – Tempe, AZ
The speaker, @leodotcloud, will discuss the background, present ecosystem of the Container Network Interface (CNI) for containers.
Oct 6th: DOCKER MEETUP AT RACKSPACE – Austin, TX
Jeff Lindsay will give a preview talk to container days where he will cover what the different components of a cluster manager are and what are things you should pay attention to if you really wanted to build your own cluster management solution.
Oct 11th: DOCKER MEETUP AT REPLICATED – Los Angeles, CA
Marc Campbell will share some best practices of using Docker in production, starting with using Content Trust and signed images (including the internals of how Content Trust is built), and then discussing a Continuous Integration/Delivery workflow that can reliably and securely deliver and run Docker containers in any environment.
Oct 12th: DOCKER MEETUP IN BATON ROUGE – Baton Rouge, LA
This Docker meetup will be hosted by Brandon Willmott of the local VMware User Group.
Oct 12th: DOCKER MEETUP AT TUNE – Seattle, WA
Join this meetup to hear talks from Nick Thompson from TUNE, Avi Cavali from Shippable and DJ Enriquez from OpenMail. Also Wes McNamee, a winner of the Docker 1.12 Hackathon, will also be presenting his project Swarm-CI. This is not to be missed!
Oct 13th: DOCKER MEETUP AT CAPITAL ALE HOUSE – Richmond, VA
Scott Cochran, Master Software Engineer at Capital One, will be talking about his journey in adopting docker containers to solve business problems and the things he learned along the way.
Oct 17th: DOCKER MEETUP AT BRAINTREE – Chicago, IL
Tsvi Korren, director of technical services at Aqua, is going to present a talk entitled 'Docker Container Application Security Deep Dive' where he will discuss how to integrate compliance and security checks into your pipeline and how to produce a secure, verifiable image.
Oct 18th: DOCKER MEETUP AT THE INNEVATION CENTER – Las Vegas, NV
Using the Docker volume plug-in with external container storage allows data to be persisted, allows per-container volume management and high-availability for stateful apps. Join this informative meetup with Gou Rao, CTO and co-founder of Portworx, where we'll discuss: Best practices for managing stateful containerized applications.
Oct 18th: DOCKER MEETUP AT WILDBIT – PHILADELPHIA, PA
Ben Grissinger, Solutions Engineer at Docker, will discuss Docker Swarm!  He will cover the requirements for using swarm mode and take a peak at what we can expect in the near future from Docker regarding swarm mode. Last but not he will be doing a demo using swarm mode and using a visualizer tool to display what is taking place in the swarm cluster during the demo of swarm mode in action.
Oct 18th: DOCKER MEETUP AT SANTANDER – Sao Paulo, Brazil
Join Docker São Paulo for their 8th meetup. Get in touch if you would like to submit a talk.
Oct 29th: DOCKER MEETUP AT CI&T – Campinas, Brazil
Save the date for the first Docker Campinas meetup. More details to follow soon.
Europe
Oct 4th: LINUXCON EUROPE / CONTAINERCON EU  – Berlin, Germany
We had such a great time attending and speaking at LinuxCon and ContainerCon North America, that we are doing it again next week in Berlin – only bigger and better this time! Make sure to come visit us at booth #D38 and check out the awesome Docker sessions we have lined up.
Oct 4th: THE INCREDIBLE AUTOMATION DAY (TIAD) PARIS – Paris, France
Roberto Hashioka from Docker will share how to build a powerful real-time data processing pipeline & visualization solution using Docker Machine and Compose, Kafka, Cassandra and Spark in 5 steps.
Oct 4th: DOCKER MEETUP IN COPENHAGEN – Copenhagen, Denmark
Learn to be a DevOps – workshop for beginners.
Oct 5th: WEERT SOFTWARE DEVELOPMENT MEETUP – Weert, Netherlands
Kabisa will host a Docker workshop. The workshop is intended for people who are interested in Docker. Last year you have heard and read a lot about Docker. "Our workshop is a next step for you to gain some hands-on experience."
Oct 6th: DOCKER MEETUP AT ZANOX – Berlin, Germany
Patrick Chanezon: What's new with Docker, covering Docker announcements from the past 6 months, with a demo of the latest and greatest Docker products for dev and ops.
Oct 7th: DOCKER TALK AT DEVOPS D-DAY – Marseille, France
Our very own David Gageot and Docker Captain Adrien Blind will be speaking about Docker 1.12.
Oct 6th: TECH UNPLUGGED – Amsterdam, The Netherlands
Docker Captain Nigel Poulton is presenting on container security at @techunplugged in Amsterdam.
Oct 11th: DOCKER MEETUP AT MONDAY CONSULTING GMBH – Hamburg, Germany
Tom Hutter prepared some material about: aliases and bash-completion, Dockerfile, docker-compose, bind mount: access folders outside build root, supervisord, firewalls (iptables), housekeeping.
Oct 11th: London Dev Community Meetup – London, United Kingdom
Building Microservices with Docker.
Oct 12th: GOTO – LONDON – London, United Kingdom
GOTO London will give you the opportunity to talk with people across all different disciplines of software development! Join Docker captain Adrian Mouat talk about Docker.
Oct 13th: DOCKER MEETUP AT YNOV BORDEAUX – Bordeaux, France
David Gageot from Docker will be presenting.
Oct 15th: DOCKER MEETUP AT BKM – Istanbul, Turkey
Event will be handled by Derya SEZEN and Huseyin BABAL and there will be cool topics about Docker with real life best practices and also we have some challenges for you. Do not forget to bring your laptops with you.
Oct 15th: DOCKER MEETUP AT BUCHAREST TECH HUB – Bucharest, Romania
Welcome to the second workshop of the free Docker 101 Workshop Meetups!
This is going to be a 5h+ Workshop, so be prepared! This workshop is an introduction in the world of Docker containers. It provides an overview about what exactly is Docker and how can it benefit both developers looking to build applications quickly and  IT team looking to manage the IT environment.
Oct 17th: OSCON LONDON – London, UK
Hear the latest about the Docker project from Patrick Chanezon.
Oct 18th: DOCKER MEETUP AT TRADESHIFT – Denmark, Copenhagen
We are going to talk about Continuous Integration, Continuous Deployment. Why is that important, why should you care? CI/CD as it is abbreviated is not only about the technical, it is also about how you can improve your team with new tools that help you deliver features faster with fewer errors.
Oct 18th: DOCKER MEETUP AT HORTONWORKS BUDAPEST – Budapest, Hungary
This Meetup will focus on the new features of Docker 1.12.
Oct 26th: DOCKER MEETUP AT DIE MOBILIAR – Zürich, Switzerland
We are happy to announce the 11th Docker Switzerland meetup. Talks include an introduction into swarmkit by Michael Müller from Container Solutions.
Oct 26th: DOCKER MEETUP AT BENTOXBOX – Verona, Italy
Join us for our first meetup! Docker Captain Lorenzo Fontana, DevOps Expert at Kiratech, will be joining us!
APAC
Oct 18th: DOCKER MEETUP AT DIMENSION DATA – Sydney, Australia
"Docker inside out, reverse engineering Docker" By Anthony Shaw, "Group Director, Innovation and Technical Development" at Dimension Data. Summary: In this talk Anthony will be explaining how Docker works by reverse engineering the core concepts and illustrating the technology by building a Docker clone live during the talk.
Oct 18th: DOCKER MEETUP IN MELBOURNE – Melbourne, Australia
Continuous Integration & Deployment for Docker Workloads on Azure Container Services. Presenter: Ken Thompson (OSS TSP, Microsoft).
Oct 18th: DOCKER MEETUP IN SINGAPORE – Singapore, Singapore
Docker for AWS (Vincent de Smet) with a demo on using docker machine with a remote host by Sergey Shishkin.
Oct 22nd: DOCKER CLUSTERING WITH TECH NEXT MEETUP – Pune, India
Dockerize a multi-container data crunching app.