Docker Captain is a distinction that Docker awards select members of the community that are both experts in their field and are passionate about sharing their Docker knowledge with others. Captains are Docker ambassadors (not Docker employees) and their genuine love of all things Docker has a huge impact on the Docker community – whether they are blogging, writing books, speaking, running workshops, creating tutorials and classes, offering support in forums, or organizing and contributing to local events – they make Docker's mission of democratizing technology possible. Whether you are new to Docker or have been a part of the community for awhile, please don't hesitate to reach out to Docker Captains with your challenges, questions, speaking requests and more.
This week we are highlighting 3 of our outstanding Captains who made August one filled with Docker learnings and events. Read on to learn more about how they got started, what they love most about Docker, and why Docker.
While Docker does not accept applications for the Captains program, we are always on the lookout to add additional leaders that inspire and educate the Docker community. If you are interested in becoming a Docker Captain, we need to know how you are giving back. Sign up for community.docker.com, share your activities on social media with the #Docker, get involved in a local meetup as a speaker or organizer and continue to share your knowledge of Docker in your community.
Brian Christner is a Cloud Advocate for Swisscom a Switzerland based Telecom where they are busy deploying a large Docker infrastructure. Brian is passionate about Linux, Docker or anything with a .IO domain name and regularly contributes Dockerarticles and GitHub projects.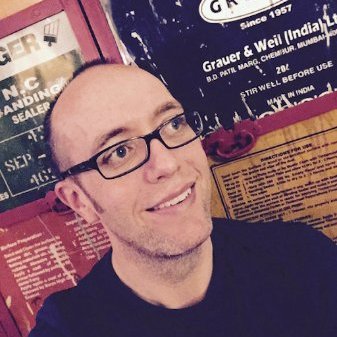 How has Docker impacted what you do on a daily basis?
3 years ago Docker was still a relatively new concept to my coworkers and customers. Today, I would say that over 50% of the meetings I attend are about Docker, containers or technologies surrounding the Docker ecosystem. We recently integrated Docker image support into our Application Cloud which was a huge success. Docker continues to power our Services platform for Application Cloud where we are busy adding more services all the time like MongoDB, Redis, RabbitMQ and ELK as a service.
As a Docker Captain, how do you share your learnings with the community?
I keep quite busy building new Docker projects, researching, presenting at meetups and publishing articles to https://www.brianchristner.io. I'm also one of the maintainers of the Awesome Docker List which is a collection of Docker resources and projects.  If you have a good project or resource, please submit it so the community can benefit. I also contribute regularly to https://www.reddit.com/r/docker
Are you working on any fun projects?
Currently I'm building a Docker Swarm version of https://github.com/vegasbrianc/prometheus
Who are you when you're not online?
When I'm not online you can find me in the Swiss Alps Hiking, mountain biking or skiing with my wife and son.
Viktor Farcic is a Senior Consultant at CloudBees. His big passions are Microservices, Continuous Integration, Delivery and Deployment (CI/CD) and Test-Driven Development (TDD). He wrote The DevOps 2.0 Toolkit: Automating the Continuous Deployment Pipeline with Containerized Microservices and the Test-Driven Java Development books. His random thoughts and tutorials can be found on his blog TechnologyConversations.com.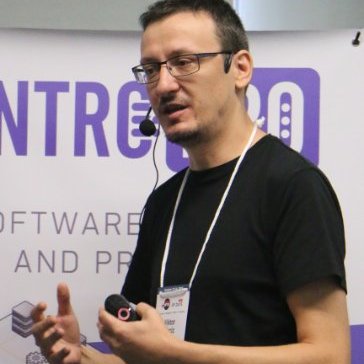 How has Docker impacted what you do on a daily basis?
Almost everything I do today involves Docker one way or another. The code I wrote is compiled through containers (since I bought my last laptop, I do not even have most of my build tools installed). Tests I run are inside containers. Services and applications are packaged and deployed as containers. Servers I used for development and testing are substituted with containers running on my laptop. The list can go on and on. In my case, Docker is everywhere.
What is a common technology question you're asked and the high-level explanation?
How do we put things into containers without changing anything else? My answer is always the same. Docker is not only a tool but a new way to approach many different software development aspects. If we are to leverage Docker's full potential, many things need to change. Architecture, team structure, processes, and so on.
Share a random story with us.
When I was young, I almost become archeologist. Being in the same profession as Indiana Jones was a much better way to attract girls than being a geek. Eventually, my geeky side won and I went back to computers.
If you could switch your job with anyone else, whose job would you want?
It would be Jérôme Petazzoni. He looks like someone who truly enjoys his work (apart from being great at it).
Chanwit is an Asst. Professor at  Suranaree University of Technology and a Docker Swarm Maintainer. Chanwit ported Swarm to Windows and developed a number of Swarm features in the early (v0.1) days. He serves as a Technical Cloud Adviser to many companies in Thailand, where they have been setting up Swarm clusters for their production environments.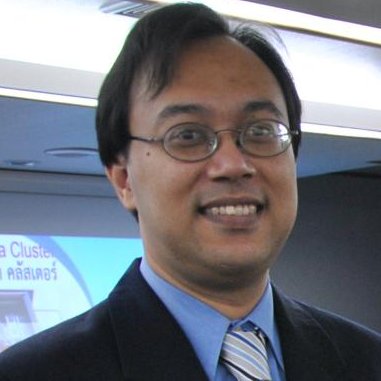 How has Docker impacted what you do on a daily basis?
I'm teaching and co-running a research laboratory at Suranaree University of Technology (SUT) in Thailand. Basically, Docker is the major part of our, Large Scale Software Engineering, research ecosystem there. We use Docker as the infrastructure layer of every system we built, ranging from low-power storage clusters, bare-metal computing clouds, and upgradable IoT devices at scale.
To make the research progresses, we need to understand how does Docker and its clustering system work. This resulted in the recent 2000-node crowd-sourcing Docker cluster project, SwarmZilla (formerly known as Swarm2K) in July.
As a Docker Captain, how do you share that learning with the community?
Together with members of the Docker community, we did scaling tests on the July Swarm2K cluster and provided feedback to the Docker Engineering team so they could use the data collected from the experiments to improve Docker Engine. I blogged about Docker and the Swarm2K project and other things at http://medium.com/@chanwit.