Founded in 1820, Indiana University has over 115,000 undergraduate and graduate students, 20,000 faculty members and eight campuses located throughout the State of Indiana. The University's vision is to provide their students with the best possible education experience via a world-class IT team.
For almost a decade the university was building custom scripts and deploying their applications onto VMs running on RHEL 6. A process that involved lots of manual work. In addition to this, their environment was optimized for their legacy Java-based applications.
In order to give their students the best experience possible, the University needed to not only modernize their 150 applications that span across both administrative and student lines and include everything from human resources based applications, course selection, finances and other student-facing applications. They also needed the ability to deploy their applications across their multi-host datacenter environment. They required a production-ready solution. A tool that would enable them to build new process around packaging, deployment, management, and scale for both centralized and de-centralized environments at the same time.
For this, Indiana University turned to the Docker Datacenter (DDC) solution. DDC is our commercial solution that delivers a Containers as a Service platform and includes: Universal Control Plane (UCP), Docker Trusted Registry (DTR) and the commercially supported Docker Engine (CS Engine). The solution not only deploys on-premises, but gives Indiana University the production-ready orchestration that they need.
Universal Control Plane is a production orchestration tool that deploys on-premises. The enterprise-grade tool enables enterprise teams to deploy, manage and scale their Dockerized applications across their multi-host environments.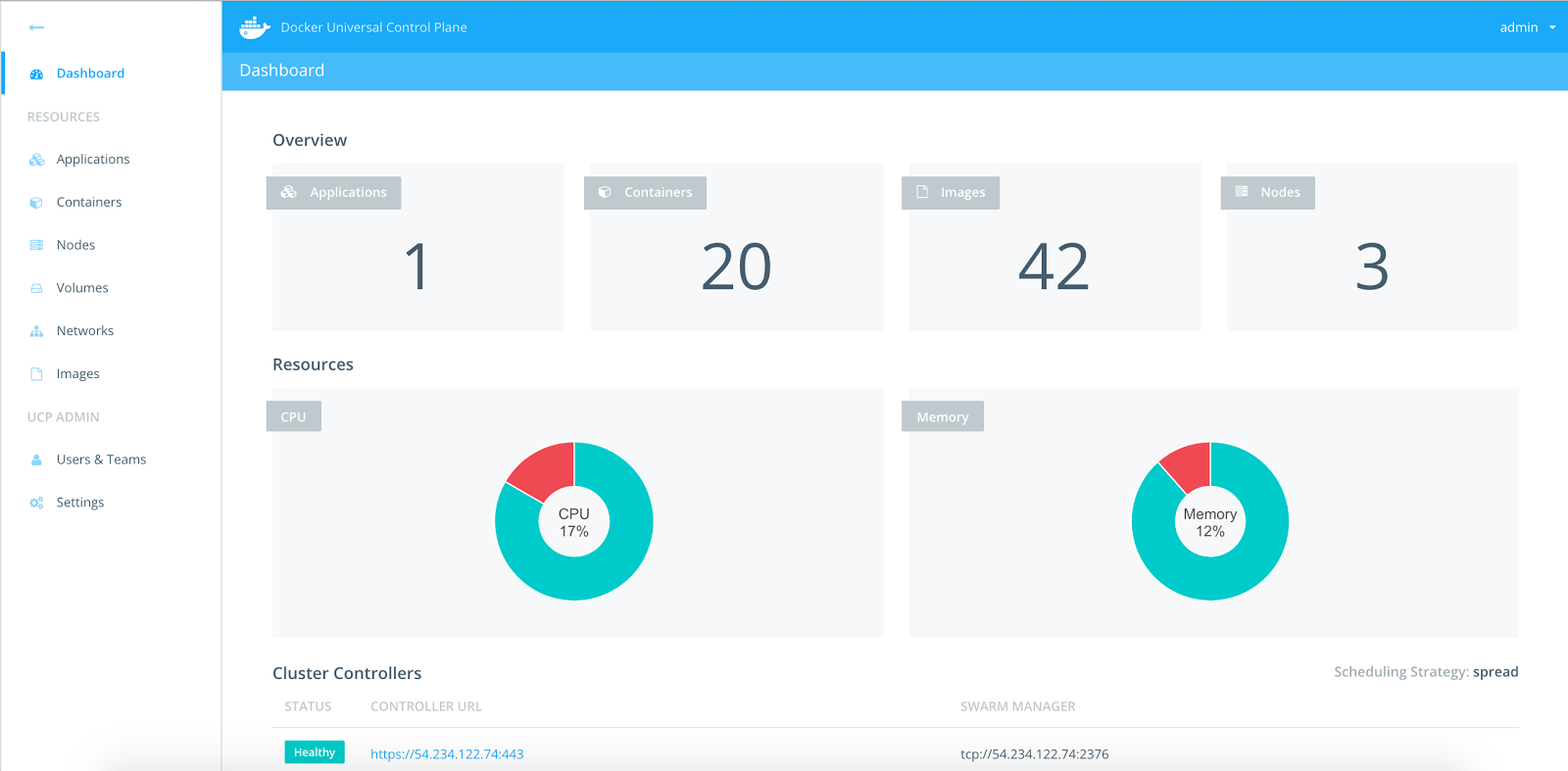 Today Indiana University manages a 6-node cluster across their datacenter with UCP. Since UCP is Docker native, it allows the team to deliver their applications quickly, utilizing all existing Docker APIs while leveraging Docker containers. With Docker handling the application containerization, their developers can focus on developing their applications, and packaging it as a container. And their IT ops team can use Universal Control Plane to provision docker installed software on hosts, and then deploy their applications with no manual steps to set up their infrastructure.
In building out their Docker Datacenter environment, security was a top focus. Since UCP  integrates with their LDAP server Indiana University can create teams and quickly provision access to their applications. The University has controls and change management processes where developers aren't allowed to deploy into production. The granular role-based access controls within the orchestration tool allow them to define the level of access each user has i.e like developers have "read-only" access to their containers in production. Their team now controls who has the ability to deploy or destroy containers running in production.
"Having the right kind of controls to make sure that changes to production are going through the right process…and getting audited appropriately is important. So, the role-based access control is really good."
– Eric Westfall , Enterprise Software Architect at Indiana University
To learn more about how Indiana University is using Docker Datacenter, be sure to watch this video
Additional Resources: