The moment you have all been waiting for is finally here…the DockerCon 2016 Agenda is live!
Whether you are a Docker beginner or a container ninjas, we're confident that DockerCon will have the right content for you. With 8 tracks and more than 80 sessions by corporate heavyweights such as Salesforce, Uber or GE to smaller companies like Riot Games or HealthDirect, DockerCon 2016 will cover a wide range of Docker use cases and topics.
If you plan on joining us in Seattle in T-minus 42 days (a magical number in Docklandia), you can download the official DockerCon App and start building your agenda today.
Fun fact: DoubleDutch runs on Docker too so your DockerCon experience is now Dockerized!
Below are some useful tips and tricks for getting the most out of the DockerCon App.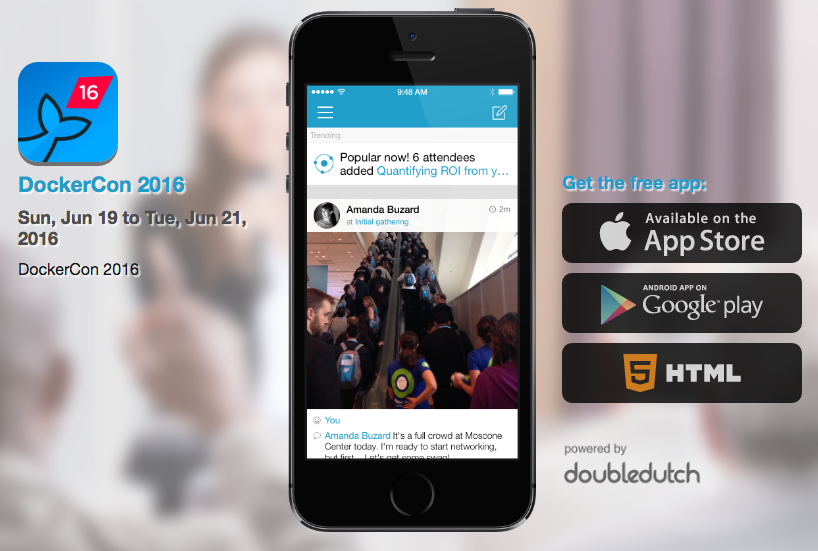 Follow along in the Activity Feed
The Activity Feed is the main hub of all attendee interactions, updates, photos, comments, etc. Think of this as your DockerCon central social stream. Have fun and say hello when you land in Seattle, see what sessions and activities others are attending, and of course make sure to post and tweet those #dockerselfies.
Build your agenda
We encourage you to review DockerCon sessions and build your agenda for the week. The process is very simple and will help you organize sessions and activities by topics that you are interested in.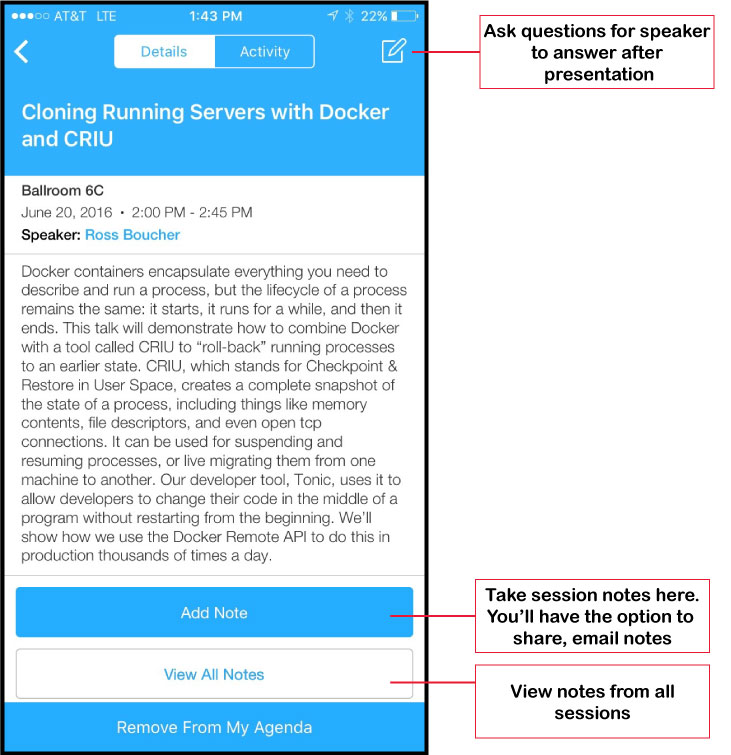 To build your agenda, you'll find all sessions in main menu under Agenda. Sessions can be sorted by day or conference track. Once you find a session you like, just click the agenda item and it will be saved to "My Agenda". Once you've built your agenda, you'll see a convenient option to export your full agenda to your calendar.
You can use the DockerCon App to comment on session topics, ask questions for the speakers to answer following their presentation. You can also use the app to take notes in all the sessions you attend. You can publish or export notes as well.
Connect with Speakers
Have you ever attended a session and wanted to ask the speaker a questions, but there wasn't enough time, maybe you got too starstruck to ask, or there was a line a mile long with attendees waiting to quiz a speaker? The DockerCon App is here to save the day! Now you can ask speakers questions before, during or after the session. The speaker will then have the opportunity to answer your questions right in the app.
Here's how to submit a question:
From the agenda page, select the session you are attending
Once in the session, select the notepad and pencil icon
You will then be able to ask your question in the Activity feed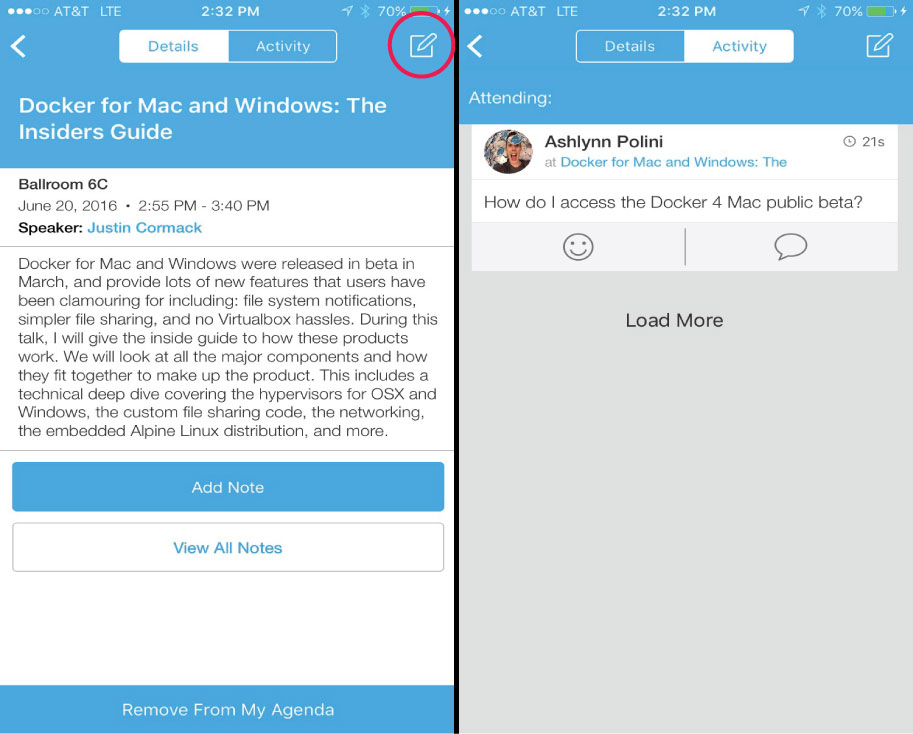 Join the Conversation
We've set up conference channels so that it's easier for attendees to participate in topic-based conversations (versus the Activity Feed where attendees can see all kinds up dates from all around the event). This is a great way to interact and meet up with attendees, ask questions and report issues to conference organizers, and of course start a Moby Dock size flashmob. As always, please remember that this is a professional event and it's important to adhere to the Code of Conduct.
Sponsors
All of the awesome DockerCon sponsors are listed in the app. Make sure to check our their profiles and learn more about how they are using Docker.
The sponsor section will updated with the a map of the Ecosystem Expo Hall giving you the details of where you can find sponsor's booths.
#DockerSelfie
Don't forget to post your #DockerSelfie photos to the Photo Feed!
What's a #DockerSelfie? It's just a selfie-style picture that features something Docker-related. Share pics of you wearing Docker swag, at DockerCon or other upcoming Docker events, or how excited you are for DockerCon.
---
Join us at DockerCon 2016
DockerCon tickets are on track to sell out in the next two weeks. Get yours now before they sell out!
---
Learn More about Docker