Today we are releasing exciting new capabilities to the products behind the Docker Datacenter subscription (DDC). Docker Datacenter allows organizations to deploy a Containers as a Service (CaaS) platform on-premises or in their virtual private cloud. From DevOps and CI/CD to orchestration and management of container applications, DDC provides a seamless way for devs and IT teams to work together to build, ship and run their apps anywhere.
Our team has been heads down since the initial launch in late February, taking in feedback and building new features.  This release brings Universal Control Plane 1.1 (UCP), Docker Trusted Registry 2.0 (DTR), and incorporates the latest Docker Engine 1.11 into the subscription with commercial support. In this release we focused on adding features around ease of use and system hardening.
End to End High Availability
There are many layers of availability within a Docker application environment, from DDC components like UCP and DTR to the actual containers running your app.  This release brings several capabilities that enhance high availability, including a completely redesigned DTR HA cluster architecture, replicated Certificate Authorities (CAs) for UCP, container rescheduling from Swarm, and a backup/restore feature. Read this detailed blog post for more details on the HA features, system architecture, and deployment.
Deploy Compose Apps in UCP GUI
With the newest version of UCP, you can deploy applications directly within the GUI by typing in or uploading a compose .yml file. UCP creates an application out of the file and instantly deploys the containers into the cluster, after which they can be managed and monitored directly from the GUI.
Easily Add More Nodes
We've made it easier to join more hosts to UCP (either replica controllers or normal nodes) by adding a helper in the Nodes UI that creates a join command with all the necessary parameters. With a single click you can copy the command to your clipboard and then paste directly into the CLI of the new host.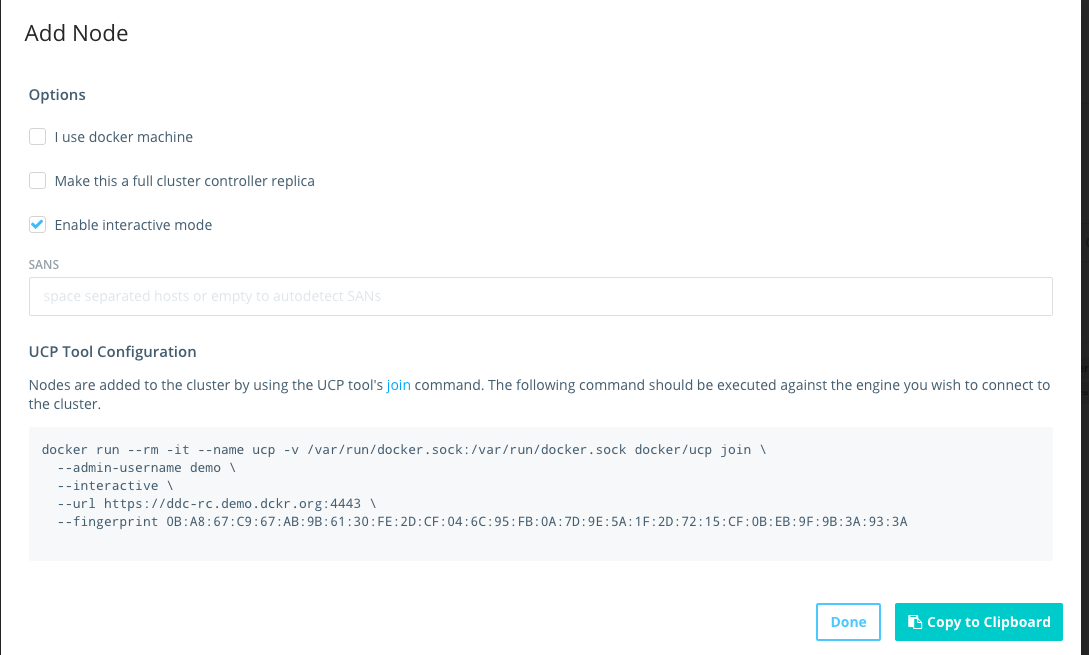 Enhanced Container Scheduling
Depending on how your DDC environment is deployed you may want to keep the nodes running your UCP controllers isolated from the rest of the cluster. You can now prevent user applications from being deployed onto the nodes running the UCP controllers with a simple set of checkboxes in the UI.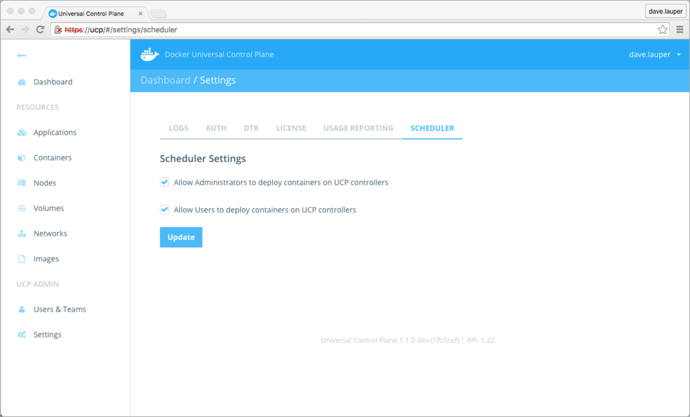 Unified Authentication
In the spirit of microservices applications sharing dependent services, DTR and UCP now use a common authentication service. This service is installed and deployed as a part of the UCP installation/upgrade process. In addition to better efficiency and performance, the shared authentication service provides several user benefits:
Users and teams created in UCP show up automatically in DTR (and vice-versa)
Easier process for wiring up UCP and DTR together for push/pulls
Revamped LDAP/AD authentication integration UI in UCP and DTR
Docker Engine 1.11 with Commercial Support
In keeping close with the Docker open source components, this release of DDC includes the latest Docker CS Engine 1.11, Swarm 1.2 and Compose 1.7.  These include exciting features like DNS round robin load balancing, container rescheduling on node failure, and the separation of Docker Engine's container runtime with containerD and runc.  This lays the groundwork for some awesome advanced features in the future. Read more about Docker 1.11 here.
Read the release notes for Universal Control Plane 1.1 and Trusted Registry 2.0  and Engine 1.11 for a detailed list of new features and fixes. We hope you enjoy the new features.
Additional Resources on Docker Datacenter
---
Learn More about Docker