Maintaining and running one of the largest and most active Docker Meetup groups is no easy task.
Since joining the Docker New York City Meetup group in March 2015, Luisa Marieth Morales, along with her co-organizers, Dusty Mabe and Jesse White, have put on 11 events for a group of 2,527 members with an average of 176 RSVPs per event. Luisa's contributions have been nothing short of essential in fostering an enthusiastic and eager Docker community.
We recently sat down with Luisa and took a deep dive into her role where we discussed her insights on being an organizer and her predictions for the future of the Docker NYC Meetup group.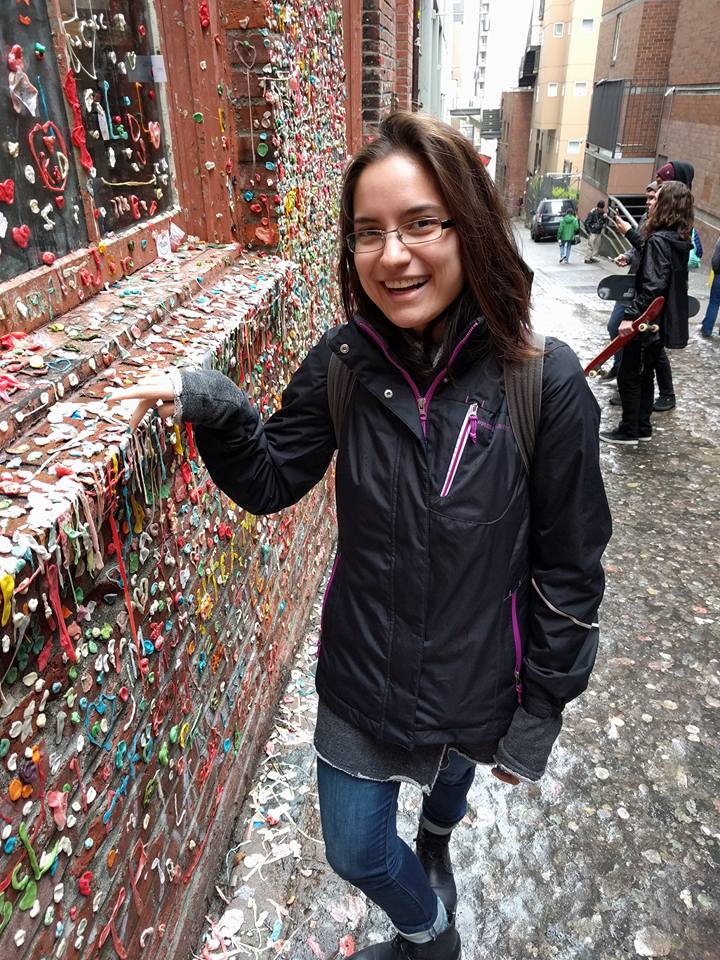 Luisa, tell us about your first experience with Docker. What drew you to joining as an organizer for the Docker NYC Meetup group?
My first official experience with Docker was at the Birthday Meetup a year ago. I wasn't using Docker at the time because I wasn't programming yet but once I talked to the organizer I began to understand the value people saw in it. If Docker was something I was enjoying without actually using it, then I knew I should be a part of it and integrate into my development workflow. The day after the second birthday, I exchanged emails with the Community Manager at Docker and began to volunteer from that day on.
Now that you use Docker, how do you use it and what do you use it for?
Actually, organizing the Meetup events made me comfortable advocating using Docker to the developing agency I work for, Stealthwerk. Although my co-workers had heard of Docker, it wasn't something we'd used at the company before. I kept talking about how great it was. When my co-worker Shahruk was made team lead and he made the call for us to use Docker. I like to think my consistent script of "Docker is amazing, we should use it","I am off to the Docker meetup!" and "it will make our lives easier" had an impact. There was a little hesitation, but it went away once everyone saw how much time we saved on setup. Now that there is more interest in Docker, I might even do a demo for another project I am working on with a different team.
What are some aspects you love about organizing Docker Meetup events?
One aspect I love is the community. I get really excited when we get to see how companies use Docker because it gives the community ideas on how they can use it. Also, if somebody asks the speaker how they can use it within their company everyone benefits from hearing the answer. The talks are just really valuable.
The second aspect I am starting to enjoy more now is the aftermath of the Docker Birthday #3 celebration because we did such a big push to reach out to other groups. The birthday event was much more representative of what the tech industry looks like in New York. We have developers of all different backgrounds. Now, post-birthday celebration, we are getting the same type of diversity at our regular meetups – that type of shift in the group that gets me excited.
When we began working together on the Docker Birthday #3 celebration you noted that the NYC group tends to attract more experienced Docker users and that having an event for newcomers might not attract as many attendees as usual. Looking back, how do you think that challenge was overcome?
I think the main thing that solved that was that people who usually attended the meetups (advanced users) brought along or invited a person they wanted to share Docker with (newcomers). Most people did the pre-work for the training and less than a handful of people asked advanced questions. I realized we could organize a workshop that is geared mostly towards larger projects, similar to the birthday training, with another workshop centered around testing out Docker with a personal project. The birthday party showed us that there are a lot of people interested in Docker and maybe that the way we were presenting it was cutting some of them off and making it less welcoming for them to attend.
Now that this is something you and your co-organizers are aware of, how will you continue to keep a diverse group?
I am thinking of organizing a workshop to continue the momentum from the Docker Birthday #3 training. My co-organizers, Dusty and Jesse, have Docker workflows that are more advanced while mine have less components. So one idea that sparked from the Birthday was to host a workshop that accommodates newcomers with intro-level friendly demos while having a separate portion for more advanced members who can get help on their projects from Jesse and Dusty. We saw so many people that were interested in learning about Docker that it is now a question of reframing what we have been doing and maybe doing it in short spurts because we are not all available at the same time, which makes things difficult.
You mentioned that sometimes the three of you might not available all at once – is that what you find the most challenging about managing a Meetup group?
Well, actually, one of the biggest challenges is getting a space, especially once your meetup reaches a certain size. Reaching out to venues takes time and if you don't have a venue you realistically can't host an event, which makes maintaining your group a lot harder. Also, having to analyze and stay aware of what is happening during the event while paying attention to how your community's needs are changing can be difficult. Since everyone has a day job and other things going on in our lives, it is easy to get used to the usual rhythm of the events. But if you are actively trying to grow your community, you need organizers that are invested and who care. You have to reach out to the community and listen to what they are telling you they want. This isn't something that is part of the day to day, it is something that is difficult to do because it takes initiative on your part as an organizer.
What advice would you give to a new organizer that just started their Docker Meetup group?
Don't do it by yourself. I mean, you can do it by yourself, but in the end you will have more fun if you have somebody else with you. Try to find at least one other person that is as passionate as you are and if it is not about Docker then they should be passionate about tech, growing communities, or even someone who is familiar with meetups. You are going to second guess yourself a lot and it helps to have someone to bounce ideas off of or to help you out when you can't execute something because of timing. Life happens – having a team helps ensure the community keeps going when things pop up. the time it is set at.
What do you do when you aren't organizing meetup events?
Because I work from home, it can be addicting when you are learning to program because you want to keep learning in the hopes that your computer will stop yelling at you. So whether I am at Sealthwerk or at at home, I am constantly at work.
Although you will most likely find me by my computer coding, you might find me rock climbing, watching way too many TED Talks, or enjoying a local beer with friends – right now I am drinking a Brooklyn Lager.
Have any cool personal projects come out of your newly-found programming skills?
I actually built an app using the Twitter API and even added Docker to it! It is called Did You Know. It allows you to discover something new everyday on Twitter by pressing some preset buttons, such as ones labelled as "Politics" or "Random", that sends queries to Twitter and brings back the most popular-related tweets. Ultimately, it gives you new tweets you might not have searched for yourself.
---
Learn More about Docker